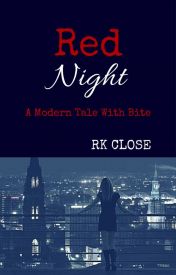 Who is RK Close?
Hmmmm… I'm a mother of three, wife to a wonderfully handsome and loving man, bicyclist, CrossFit lover/hater, unknown artist, late-bloomer, dreamer, traveler, blogger, coffee addict, early riser and oh- an author of paranormal romance. I love reading, rainy days and coffee. I really like coffee! I hate running, working in an office, cleaning and paying taxes.
How did you get into writing?
I've always loved to read and thought being an author would be the best job in the world. I always considered it too far out of my grasp and never even tried until a year ago when I joined Wattpad and wrote the first chapter to RED NIGHT. I found that I'm rather addicted to writing and plan to continue writing until my fingers don't work anymore. Then I'll start dictating. 😉
How did Red Night come about?
Well, my 17 year old daughter told me about Wattpad so I checked it out. I thought it looked pretty interesting so I sat down and took a character and placed her in a normal situation that takes a strange twist. That situation involved spying on a vampire without her knowing such creatures existed. All I did was set it up and then the characters sort of took over. I will say that I was pretty horrified to push 'Publish' and put it out there for people to actually read. Each chapter just flowed out of me and I was more than shocked when I finished the rough draft of RN in three months. My grammar isn't the best but I'm working to improve it.
What are the future plans for Red Night?
I currently have a submission of the full manuscript into a publisher for review. I'm completely comfortable publishing RN on my own. Ok, that's a lie. I might go completely grey in the process but I think I can do it. RN has much room for improvement but based on the response from Wattpad I have the encouragement to move forward with the series.
You are currently working on the second Samantha and Adam adventure – Red Moon.  Are you planning on a third?
Yes, I plan to write a third book in what I've started calling The Red Trilogy. I'm not sure what direction that book will take but it will wrap up some things and possibly start another series. I'm a Pantser and not a planner is what I've discovered about my writing habits. I only have a vague idea which way the story is going at any given moment. I'm usually as surprised as the readers.
What advice can you give to those that are just starting out on their online writing journey?
Read, read, read. If you want to be a good writer you must be a good reader. Other than that I'd say write something every day. Steven King says to set a goal and then meet it each day. I see the benefit of this.
What do you most struggle with when writing?
Time! There is never enough time in a day. I've been lucky enough to not struggle with writers block so far. I have had a little trouble keeping the second story organized. The first story is a clean slate. The second story is another beast entirely. I have to keep all these parameters organized that I set up in the first story. It's all working out but I had to add some order to the process. I'm not the most organized person.
Do you think that writing on a platform such as Wattpad has helped you grow as a writer?
Most definitely! Wattpad was the perfect opportunity to test my abilities and ideas. Where else do authors have access to such a large number of Beta readers for free? Some of the glitches make me crazy but there is still no other platform out there that matches it.
What is your most memorable moment on Wattpad?
That's difficult because I've had so many. But two moments stand out as most memorable. When Leila Adams first started reading my story and quickly became my friend and mentor. The other highlight to my Wattpad story was when I received notice that Red Night was going to be featured by Wattpad. I couldn't believe it. I was grinning for a month.
Who are your favourite Authors?
Ann Rice, Karen Marie Moning, Stephen King and many others. On Wattpad I have several as well but Leila Adams and Juliet Lyons are near and dear to my heart. Both of those ladies will have their books on the selves of our favorite stores in the near future. I have no doubt.