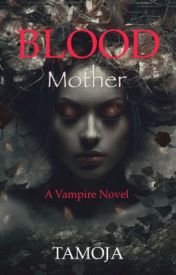 Who is Tammy Oja? – Tell us a little about yourself.
Who am I? That seems to me my own question as well.  I am a completely average middle aged woman whose kids are growing up and forcing me to find myself. Label wise I am a registered nurse, wife, mother, daughter, and hater of laundry and dishes.
When and why did you begin writing?
I actually started writing in grade 7. I loved it and dreamed of journalism. By grade 8 I gave it up and didn't write again until my 30's in nursing school. I found it a way to deal with the pain of seeing patients suffering. But back then I wrote in notebooks and tucked it in drawers until spring cleaning. My true passion came last year, when I found Wattpad. Since then, I find it hard to stop.
How did Blood Mother come about? What inspired you to write it?
Blood Mother came to me out of frustration at the difference between my teen daughters version of vampires and mine. We both love every aspect of them but she constantly saw them as romantic sparkly loving good guys (no disrespect to those sparkly hunks, I love them!) But I felt she missed out on the deep dark scary vampires I grew up with. Anne Rice kept me up for days. I dreaded bed and slept with a crucifix to protect my soul!  It was terrifying and wonderful. I want her to know some of that fear. Now if only I can make her read my stuff!!
What are the future plans for Blood Mother?
My future plans for Blood Mother are varied!  Some days I dream about taking it further (don't we all as writers?)  But for the most part I dream it does what I intended, causes someone to feel that exhilarating fear of what if…; and whatever platform that may be, my hope is it just gets enjoyed.
What was one of the most surprising things you learned in creating Blood Mother?
The most surprising thing I have learned while writing Blood Mother is that I have put so much of my belief in the storyline. I didn't intend to see parts of myself here, and yet they are so evident. I don't murder children! (That's all Calina!!).  But I do believe that circumstances make us bias, and this closes us off to so many great connections. And that emotional pain and numbing is far worse than physical death. And that love can truly overcome anything and is the greatest power of all. It's not all blatant to readers, but in hindsight I see so many connections to my true feelings. When I first saw this, I thought I was really stretching, but now I can't unsee it, and can't help but wonder if that was my brains point from the start.
Even if those things stay subliminal messages, I can't help but smile that I know they are there.
Are you a pantster or a plotter?
Pantster!  Honestly I had a general idea of what I wanted. Nothing written or planned. But after the chapter sometimes I'm like "OMG. What just happened".  It's a gift to write and have no idea what's going to happen. I've tried planning because I feel it's professional, and gives structure but it just isn't me.
What do you most struggle with when writing?
My greatest struggle is confidence. I don't have the background in writing and I know I could probably bring editors to tears. I read things sometimes that make me pause and pinch myself because it's just that good. Time stops, I want to make that good quality magic.
Do you think that writing on a platform such as Wattpad has helped you grow as a writer?
Wattpad has definitely helped me grow as a writer.  For one, I read nonstop and a wise person once told me: 'to write, one must read, and read a lot of everything'.  (Mary Tabor, thanks for that nugget). When I write on Wattpad I get feedback, critique, and encouragement from amazing people who are far more supportive than dresser drawers. I can't imagine life without them; that would be a horror story.  Even though I skip across genre lines I have found friends and gotten support that has changed my life and helped me to grow every day. I am positive I wouldn't be writing at all without the people there who just blow me away with courage, support and talent beyond belief.
What is your most memorable moment on Wattpad?
My most memorable moment on Wattpad?  Oh gosh!  Probably it would be reading my first book and commenting on it and having the author comment back.  It was like I was able to tell her exactly what I felt, and she responded. I had never experienced that. I've yelled at books, laughed, screamed, questioned. But to have my feelings voiced and heard, and questions answered and validated by the actual author, it was mind blowing.  And still is!  That very first read was like walking on the moon.
What books have most influenced your life?
That's actually a dangerous question for me. I read like mad. Every book tells me something.  I could list so many you'd kick me out of here. But, I'll tell you a few that I still read yearly and couldn't live without.
 -Anne of Green Gables
-The Good Earth
-A Tree Grows in Brooklyn
-Song of the Wolf
-The Poisonwood Bible
-The Vampire Lestat
These books touched me at an exact point in time when I needed them to and I literally read most of them once a year.